Top 5 Phone Covers With Stand View And Wallet Case
icatchyadmin
After purchasing a new smartphone, picking up the best quality phone cover is quite a sensible move. It is necessary to keep a delicate mobile phone safe from any harm such as screen cracks. We should choose the best phone case that will offer both- features and security. Flip phone cases are the most in-demand phone case because they are not only classy, but they also have a wide range of features that are very useful to users. Flip phone covers provide maximum drop protection against smashed screens as well as safeguard the phone against dirt and spills.
I prefer flip cases for two prime reasons. First, they provide the necessary protection to my smartphone. And secondly, they also help me keep prying eyes at bay especially when I'm using my device at some public place. Besides, flip cases have a quite durable build-up as well as are elegantly designed.
With thousands of smartphone, flip covers available online, you might get confused not knowing which brand to trust for your phone cover. iCatchy is a popular brand of mobile phone cases, covers, and accessories. They have sold more than 100,000 products all over the UK, and Europe.
Their flip covers offer an inbuilt wallet case that is a must-have for all those who don't want to carry around an extra bulky wallet. It has enough space to hold your cards, cash, and ID in one place.
Also Read: How To Choose The Perfect Case To Protect Your Smartphone Or Tablet?
Here we are reviewing the top 5 phone covers to safeguard your smartphone in style.
1. Leather Wallet 360° Rotating Durable Protective Cover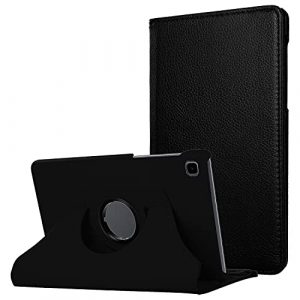 Dimension: 8.7 inch Case
Compatible with: Samsung Galaxy Tab A7 Lite
Price: £9.99
Color Variants: Black
Features
• High-Quality Ultra Slim Lightweight Smart Cover Stand Case
• Tough round corners give all-around protection to Tab and also add a style factor.
• Corners are a little raised to provide proper protection to the LCD screen in case your phone falls down.
• Lightweight & Impact protection for LCD.
• Made of Super Quality Thermoplastic material, provides Dual Layer Armoured Protection to your Device.
2. Leather Wallet Book Flip Folio Stand View Case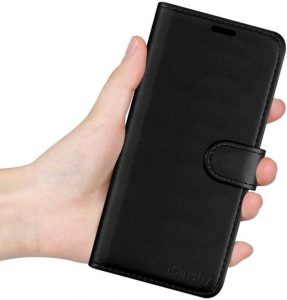 Dimension 6.1-Inch
Compatible with: iPhone 12 / 12 Pro
Color Variants: Gold, Purple, Black, Blue, Red, Rose Gold
Price: £5.99
Features
• Stylish Slim fitted design with a stand.
• Lightweight body with Impact protection.
• Made with premium PU soft leather with a Mattel TPU Holder Cover.
• Contains 2 card slots along with a cash compartment
• Has a built-in Compact Stand to position your device into your ideal view angle.
3. Case Leather Wallet Book Flip Folio Stand View Cover Pouch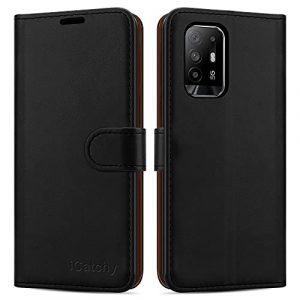 Color Variants: Black, Blue, Lilac, Red, Rose Gold
Compatible with: Oppo A94 5G
Price: £5.99
Features
• Slim fitted design with a stand.
• Lightweight with Impact protection
• Side Wallet with Magnetic Closure (Cash and Card Holder).
• Built-in Compact Stand designed to keep these cases sleek and thin.
• Premium PU leather, presents good-looking and durability.
4. Shiny Leather Bling Glitter Wallet Book Flip Folio Stand View Cover Pouch
Color Variants: Rose Gold
Compatible with: Nokia G10
Price: £5.99
Features
• Wallet book card case cover with premium shiny leather bling glitter folio case
• 100% High-quality PU shiny leather case with soft TPU holder Portfolio
• Combined cash and credit cards holder
• Offers full-body protection against scratches and damage by quality premium leather & TPC inner.
• Magnetic Closure, Quick and simple snap-on shell installation
5. Samsung Galaxy A50 Wallet Case Cover
Color Variants: Black, Blue, Gold, Purple, Red, Pink, Rose Gold
Compatible with: Samsung Galaxy A50
Price: £4.99
Features:
• Wallet book cover made with a premium leather folio case
• Screen protector for Samsung Galaxy A50
• Premium quality PU leather case with soft TPU holder
• Elegant color options
• Combined wallet, id card, and credit cardholders
• Full protection against scratches and damage
• Magnetic Closure
• Suitable for everyday and business trip